Happy New Year!
Happy New Year!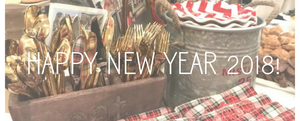 As 2017 came to a close, we took an evening to celebrate our amazing staff and to celebrate a special milestone - we've donated over $100,000 to local charities through our Round Up program.
We captured a special moment in the evening when Alison brought her two worlds together. Alison's husband and five children joined her A. Dodson's family to enjoy dinner prepared by her nephew followed by a gift opening. Spoiler Alert: everyone received a coveted Uno de 50 bracelet! YASSSS!!!!
As a small business, our customers mean the world to us and we're looking forward to a New Year of offering the highest level of customer service and supporting our community through our Round Up For Charity. 
To everyone who shopped in our stores or on our website this year, thank you for making 2017 a great year. Cheers to 2018! ✨